By Plane
With the quaint Inhambane airport just 23 kilometres from Tofo's pristine sandy shores and Baia Sonambula, reaching paradise is just a short flight away. LAM flights departure Johannesburg and they go via either Maputo or Vilankulos. On arrival, we can organise an airport transfer for you. The airport transfer is free for staying of 5 night or more.
For people who don't want to fly with LAM, there are 2 slightly longer options.
The first option is to fly directly from Johannesburg to Vilankulos with Airlink or South Africa air-line. The flights are daily and they run on a perfect schedule. From Vilankulos we can organize a taxi for you. The journey will take a further 4.5 hours.
The second option is to fly Johannesburg-Maputo with South Africa air-line. There are quite a few flights per day. Once in Maputo you can either come up with Public Transportation, Rent a car or hire a private taxi. Time and cost vary greatly between a private taxi and public transportation.
For flight details visit both web page:
By Car
For those driving, Inhambane is about 500 kilometres north of Mozambique's capital city, Maputo, along good bitumen roads. Whilst the road is in excellent condition and suitable for all vehicles we advise guests to allow seven hours from Maputo as traffic can be congested in the capital and police heavily enforce the 60-kilometre speed limit in the string of picturesque villages and towns the road winds its way through.
Once you arrive in Inhambane, head east and simply follow the "Praia do Tofo" signs for about 23 kilometres. At "Babalaza", a small town with a string of roadside stalls, turn sharply right when the road folks and continue for five kilometres. There is a petrol station with an ATM on this road. Please note this is the last petrol station and there are no ATMs in Tofo.
Upon arrival at Tofo look out for our sign directing you to turn left into a sandy road. If you are driving a raised 4X4 take this road, otherwise we advise driving for another 100 metres to the next sandy road which is suitable for all vehicles. Either way, continue along the sandy roads for a further 500 metres following our signs until you reach the sea and our wooden double gates. You can safely park your car outside our doors. Welcome to Baia Sonambula.
GPS directions 23°51'17.4″S 35°32'56.2″E
By Taxi
Finally, if you are up for an adventure and want to snatch a real taste of Africa the "chappas" taxis from Maputo to Tofo are the way to go and will stoke the flames for any good travel writing. Over crowded with smiling Mozambicans, and seemingly operating to their own "African time", it is on these public taxis where your authentic African adventure starts. While they may not have the air conditioning of an aeroplane or private taxi they are much cheaper and will almost certainly have your thrown into the 'real' way of life for many locals. Whether you want to practice your Portuguese with your always friendly driving companions, or use the time to finally read that novel, the Chappas taxi provides this time. Chappas depart daily from Maputo's two main hostels, Fatima and Base Backpackers, at 5.00am arriving in Tofo around 2pm. Both Hostels will organise a taxi to ferry you to the bus station. Bookings are advised.
When you arrive in Tofo please ask the the driver to drop you at either the police station or in front of Tofo. From both centres simply head past the fresh food and clothes market next door, and turn right at the beach. Walk 150 metres along the sand until you reach your home away from home. You've made it and just in time for a cool fresh fruit sundowner on your private deck overlooking the sea.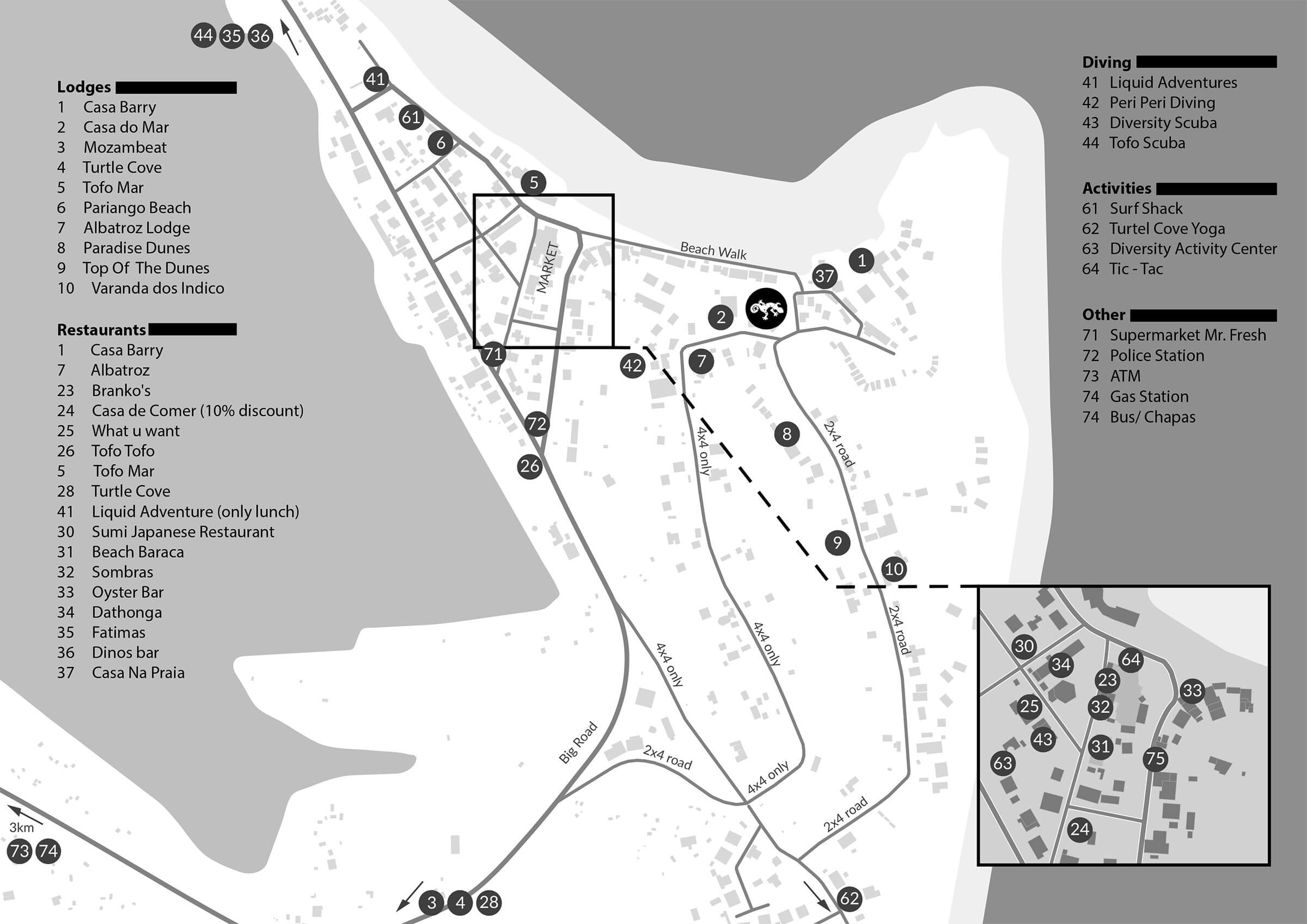 Things You Need To Know
Mozambique Info
Climate
The climate in most of Mozambique is tropical and warm with a dry cooler season from April until September and a wet hot season with temperatures of around 29 C at the coast from November until April. In winter the weather at the coast is sunny and pleasantly warm (average temperature in Inhambane in June and July is 21 C). This is the perfect time to enjoy Tofo.
The sun is never too strong and even around mid-day, you will be able to lay in the sun without having to worry about getting sunburnt! The days are short (the sun sets around 4.30 pm) and the evenings cool making it extremely comfortable for sleeping. It's usually very dry and the chances of getting rain very low. During the hottest months (November – April) the temperatures can climb up to 30 C or even more; days are much longer and the sun much stronger forcing people to hide in the shade during the hottest part of the day.
This is also the rainy season, where chances of rain are higher. It does not come like a Monsoon, where rain is constant and heavy, but it usually lasts a couple of days of on and off showers.
Malaria
For all practical purposes, malaria should be considered to be present throughout Mozambique and throughout the all year, with much higher chances of getting it during the wet/hot season (November to April). This does not mean that coming to Mozambique will result in getting Malaria. Thanks to the different types of prophylactic drugs (ask your doctor which one is better for you) now available on the market, visiting areas where Malaria is out and about is much safer.
Just as important as taking malaria pills is making every reasonable effort not to be bitten by mosquitos between dusk and dawn when mosquitos are active. The combination of both, prophylactic and good prevention, will most likely get you a Malaria Free vacation. Some people can be extremely paranoid about Malaria to a point where they might decide not to come and vista Mozambique at all.
Please remember that there is plenty of people that live in Tofo area that goes on for years without getting Malaria and of course without taking prophylactic treatment. Be smart, protect yourself, and don't let the fear of Malaria spoiling your holidays.
Visa
Citizens of Britain, Australia, Canada, USA and other EU countries all require a tourist visa to enter the country. Most of the people from the neighbouring country do not require a visa to enter the country.
Since February of 2017, the Parliament finally legalized Visa on arrivals at 18 entry points throughout the country. This makes things much easier and cheaper for people who want to visit this beautiful country.
Even though the process can feel a bit slow at times when the borders are busy, it is a blessing for everyone that we are able to get a visa on arrival. The price is 2.000,00 MZN which is equal to 28$ (at mid-2017) and is a single entry visa valid for a total stay of up to 30 days which can be extended twice for a total of 90 days.
The earliest known inhabitants of Mozambique were the San. This nomadic tribe survived largely through hunting and gathering. Between the first and fifth centuries, Bantu-speaking tribes migrated through the Zambezi valley and through to the coastal plains.
Portuguese explorer, Vasco da Gama is believed to have reached the Mozambican coastline in 1498. By this time, there was already evidence of Arab and Swahili trading settlements along the coastline, which had been in existence for several centuries prior to Vasco Da Gama's landing.
In 1505, Mozambique became a Portuguese colony and during the 16th and 17th centuries, trading posts and forts were set up along the coastline with limited ventures into the interior until the gold rush in the Transvaal. Throughout the 17th and 18th centuries, Mozambique became a major slave-trading centre, supplying Arabia and the Ottomans, until Portugal outlawed the slave trade in 1842, although clandestine trade continued for decades after this.
Toward the end of the 19th century, Portugal leased large tracts of territory to trading companies who used Mozambican labour to further their interests and build infrastructure. In 1891, the contention over Mozambique's western and southern border between Portugal and Britain was settled by French Prime Minister MacMahon, thus defining the present-day borders between South Africa and Mozambique.
In 1932 Portugal broke up the trading companies and imposed direct colonial rule over Mozambique. During the 1950s and 1960s, the colonial economy thrived, with thousands of Portuguese settlers being attracted to Mozambique.
In 1962, activists opposed to Portuguese colonial rule who had previously been exiled, formed the Mozambique Liberation Front, Frelimo, headed by Eduardo Mondlane. In 1964, Frelimo forces began the war of independence reverting largely to Guerilla tactics and taking control of large areas of the north of Mozambique, with some military equipment and training from the Soviet Union, China and Algeria.
In 1974, a military coup in Portugal lead to a new government which supported autonomy for Portugal's colonies. Frelimo moved quickly and signed an agreement with the new Portuguese government to take control of Mozambique. This began the start of the departure of 250 000 Portuguese inhabitants from Mozambique, collapsing the social and economic structure in the country. Portugal and Frelimo signed the Lusaka Accord in 1974, establishing a transitional government, with Mozambique gaining independence on the 25th June 1975, after 470 years of colonial rule. Frelimo ruled Mozambique under a single party system with Samora Machel as Mozambique's president. Frelimo later adopted a Marxist-Leninist doctrine.
In 1976, the Mozambican Resistance Movement, RENAMO was formed, backed by Rhodesia in an effort to stop the flow of weapons to ZANLA guerillas who were based on the Mozambican border and fighting against the Rhodesian government. With independence being gained in 1980 and Rhodesia became Zimbabwe, RENAMO was backed by forces in South Africa in an attempt to counter opposition ANC guerillas basing themselves in across the border in Mozambique. Thus began the bloody and violent civil war in Mozambique.
The protracted civil war ruined Frelimo's economic administration. The Mozambican civil war was particularly savage, with attacks on civilians and the drafting of child soldiers. The country fell into economic ruin, there was widespread famine, another mass exodus of Mozambicans from Portuguese descent and Mozambican nationals fleeing their homeland. Some 1.7 million Mozambicans are thought to have fled Mozambique to neighbouring countries.
In October 1986, Mozambique's President Samora Machel was killed when his aircraft crashed near the South African border. He was succeeded by Joaquim Alberto Chissano who continued expanding Mozambique's links with the West and pursuing internal reforms. In 1989, Frelimo renounced their Marxist-Leninist doctrine.
In 1990, the end of the Cold War and the collapse of Apartheid in South Africa resulted in the support for the RENAMO forces drying up and the first talks between RENAMO and Frelimo were held. Frelimo's draft constitution paved the way for a multiparty system and a new constitution being adopted and democratic rights being guaranteed.
In 1992, the Rome General Peace Accord was signed in Rome between President Chissano and Renamo leader Afonso Dhlakama. A UN peacekeeping force oversaw the transition to democracy with elections being held in October 1994 and Chissano being re-elected as President.
In 1995, Mozambique became a Commonwealth member and in 1999 Chissano is re-elected in the presidential elections. In February 2000, Mozambique experienced devastating flooding, displacing thousands of people and causing massive damage.
In 2005, after Chissano steps down after 18 years in power, Armando Guebuza is inaugurated as President. In 2009 the president Armando Guebuza was re-elected for another mandate. With him in power the country kept on growing steadily, coming out as one of the brightest stars of Africa.
In October 2014, after months of political turmoil, the country went to vote for the new parliament. Frelimo once again won the peaceful election and is candidate Felipe Nyusi is set to become the new president of the country.
Visit Tofo in Style
We Have Vacancy!