 Welcome To Sonambulas – Discover Unforgettable Comfort & Serenity
Imagine a haven where every detail whispers luxury. As the gentle waves caress Tofo beach, you witness majestic whales from your secluded balcony, share intimate moments under the shimmering stars, or simply escape from the world's frenzied pace. Sonambulas isn't just an accommodation; it's an experience. Dive into our exclusive retreats and embrace the tropical allure you've always yearned for.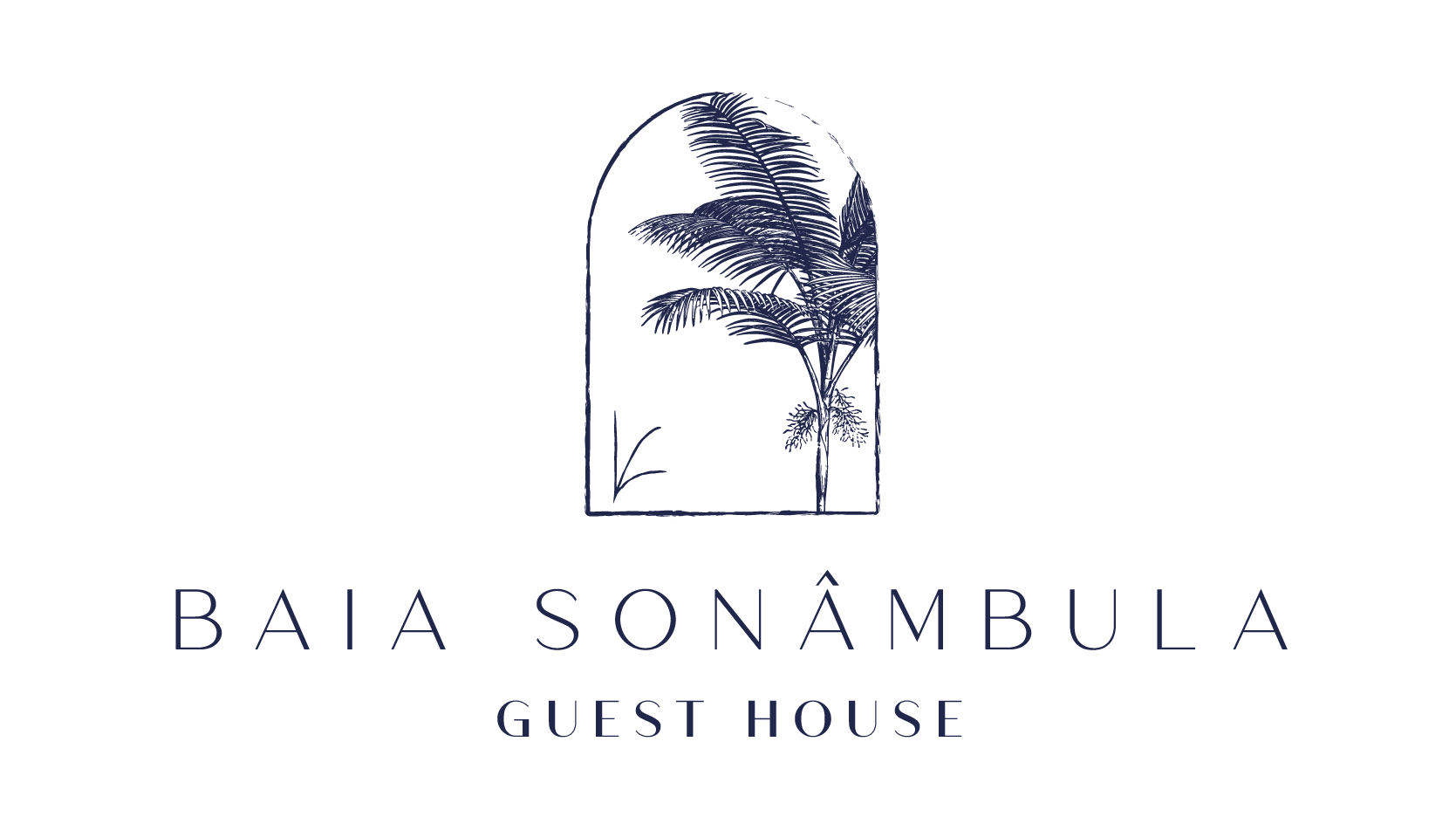 Opened in 2008, Baia Sonambula "Sleeping Beach", is nestled unassumingly behind Tofo Beach and offers a stylish beach hideaway at a standard unparalleled in the rustic village. There is plenty of living space, and you can enjoy endless sea views from your private wooden deck. With the ocean a mere 30 meters from your rooms, you can look forward to easing into your day with the sound of lapping waves and luxurious surroundings.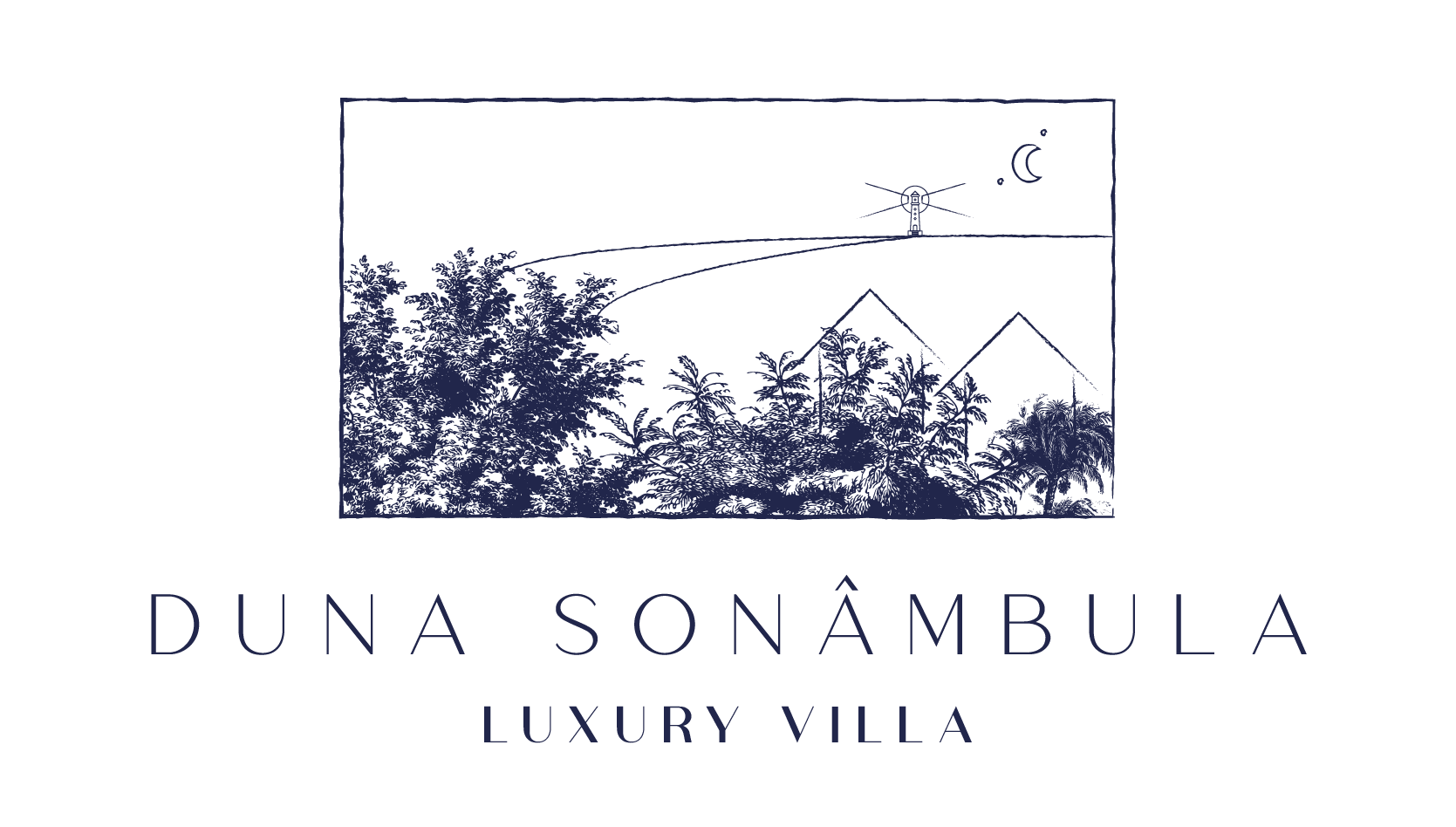 Our luxury villa provides an intimate, quiet, and private space where guests can feel completely relaxed. The house sits between two dunes, and we channel the prevailing wind from the south to create a lovely breeze throughout the day. We built a small stream that flows through the middle of the villa and out into the pool, with a similar-sized space carved out above it. This feature allows you to look up at the sky from below. If you want to cool off, standing under the small waterfall where the stream enters the pool is both refreshing and enjoyable.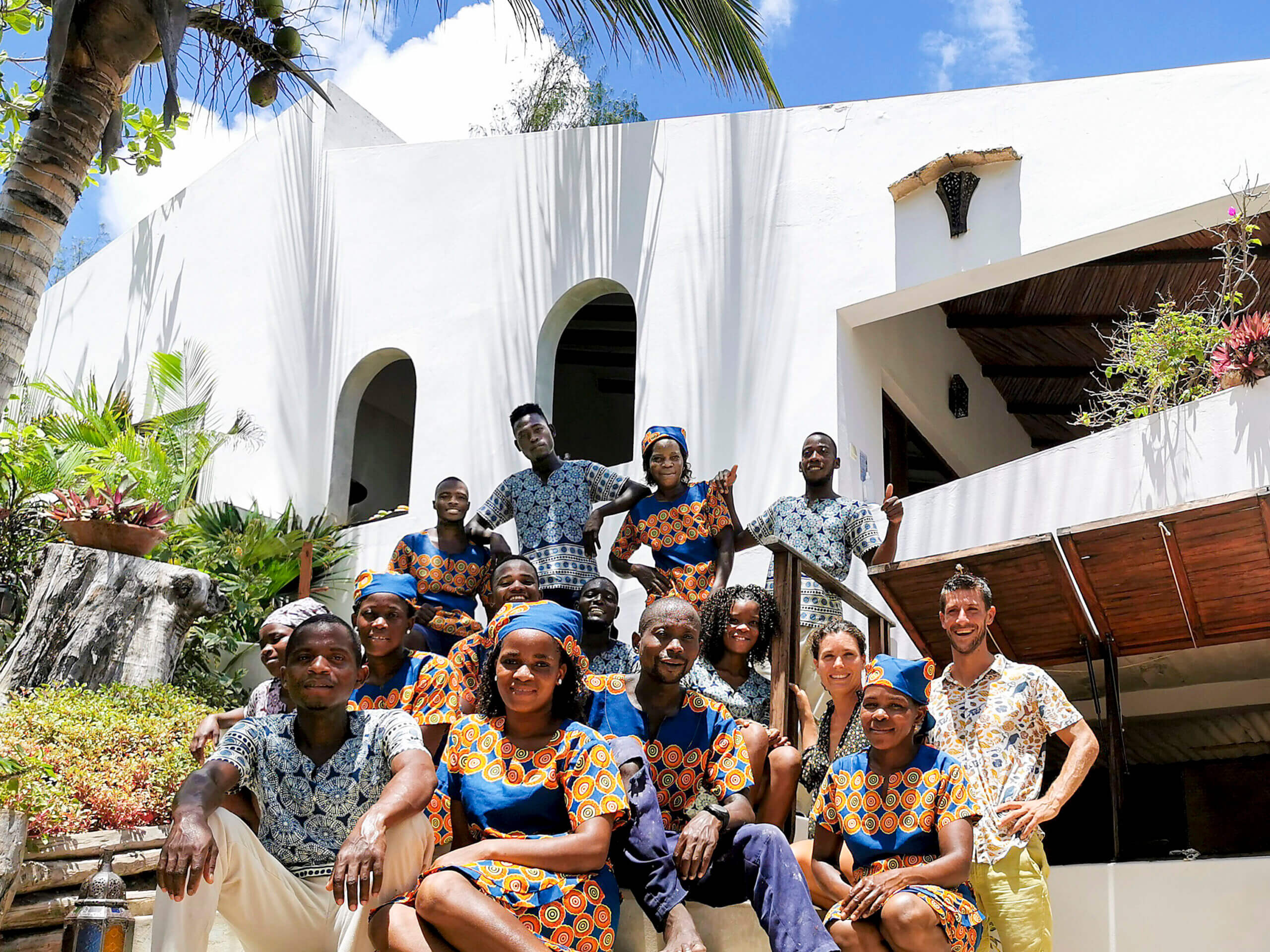 Guest Reviews
Voted Best B&B in Tofo
"This cosy getaway is as close as I would imagine paradise must be. The Sonambulas team are friendly and you feel like you are at home. They do everything they can to make your stay a great experience. Staffs are smiling and helpful, and they make an incredible breakfast"
"We felt so welcome and all the staff were helpful and friendly. Gian and Stephanie and their local team are fantastic hosts and the breakfasts and afternoon cake are delicious! The rooms are very comfortable with lovely touches such as daily fresh flowers and homemade coconut oil."
"It took me around 2 minutes to get to the beach and is surrounded by gorgeous flowering trees and coconut palms. The staff are well trained, attentive and friendly without being obtrusive. The room I stayed in was small but perfect for my needs and had all the facilities I required."
"We have stayed at many hotels – big and small – all over the world, but Sonambula is an absolute favourite of ours. The staff is friendly, smiling and relaxed, the breakfast is really nice with a great variety, the location has a fantastic view of the ocean, and the structure itself is beautifully made."
Our team aims to answer messages within 48 hours (across all contact methods), and we look forward to hearing from you.
Do you have Wi-Fi?
Yes, we do have internet WI-FI in the common area and on the two main terraces. Please, keep in mind that you are in Africa, internet can be slow or not working at times. When that happen, we can guarantee you that we will try our very best to fix the problem. In recent times we were never out of internet for more than 2 full days. In that case we can provide our guest with Hotspot from our phones in case internet is needed.
What plugs do you use?
We have Portoguese plugs with the two pins. In Bungalow 2,3,4 we also have South African plugs. For all our guests, keep in mind that we only have South African adapters.
Can you drink the tap water?
First of all, we have an excellent water filtration system from South Africa to make the water crystal clear in order to flush toilets, take a shower or brush your teeth. For drinking water, we provide every Bungalow with its own "Terracotta" water filter which gets filled up by the ladies during the morning shift. For the two rooms we have a big one in the common area which everyone is welcomed to use. We do sell bottle water in our honesty bar.
Can you drive from Limpopo to Sonambulas?
From Limpopo National park to Tofo it takes the all day. We haven't done that road personally but all our clients that have driven that way They always arrive to Sonambulas later in the afternoon. We strongly recommend you to have a 4×4 for that road and consider about 7-9 hours driving.
What are the road conditions like?
The road all the way to Lindela (60km from Tofo) is in excellent conditions and it's actually a fantastic drive in terms of Scenery and soaking up the African vibe. From Lindela to Tofo the road is paved but it's not in perfect conditions and it's a bit narrower. It can be driven easily by any car, but it will require you to slow down a bit. Before reaching Tofo (you will see the paved road ends at the Police station) you will see signs for either Sonambulas or Casa Barry. Follow one of them until you see the big board sign of CASA BARRY. IF YOU DON'T HAVE A 4×4 YOU MUST LEAVE THE CAR THERE AND WALK 40 MT TO OUR GATE!!!!!
Our entrance door has got an arch covered in flowers. But if you've got any problems, you can reach us under the following numbers:
Gian: 00258 846 24 58 53 or Franzisco: 00258 840 61 86 15
What is the climate in Tofo?
The climate in most of Mozambique is tropical and warm with a dry cooler season from April until September and a wet hot season with temperatures of around 29 C at the coast from November until April. In winter the weather at the coast is sunny and pleasantly warm (average temperature in Inhambane in June and July is 21 C). This is the perfect time to enjoy Tofo. The sun is never too strong and even around mid-day you will be able to lay in the sun without having to worry about getting sunburnt! The days are short (the sun sets around 4.30 pm) and the evenings cool making it extremely comfortable for sleeping.
It's usually very dry and the chances of getting rain very low. During the hottest months (November – April) the temperatures can climb up to 30 C or even more; days are much longer and the sun much stronger forcing people to hide in the shade during the hottest part of the day. This is also the rainy season, where chances of rain are higher. It does not come like a Monsoon, where rain is constant and heavy, but it usually last a couple of days of on and off showers.
How is the Police along the road?
As a tourist with a rented car make sure that all your documents are in order. You are allowed to drive with your national licence. You will find many police check point along the road. You might get stopped once or twice or never, that depends on luck. But with a car in good looking conditions or a S.A. number plate you might have it a bit easier. If stopped, show them respect (as usual with Police!!!) and talk to them. They are nice with tourist and even if most of them don't speak a word of English try to understand the problem. Usually it's SPEED! There are plenty of missing road signs so be extra careful. They are usually on the 60 zone speed limit and almost never on the 100 zone. Before villages or schools slow down anyway because you will see a lot of people on the side of the road. If did speed up to much, make sure you get an official invoice.
Malaria
For all practical purposes, malaria should be considered to be present throughout Mozambique and throughout the all year, with much higher chances of getting it during the wet/hot season (November to April). This does not mean that coming to Mozambique will result in getting Malaria. Thanks to the different types of prophylactic drugs (ask your doctor which one is better for you) now available on the market, visiting areas where Malaria is out and about is much more safer. Just as important as taking malaria pills is making every reasonable effort not to be bitten by mosquitos between dusk and dawn, when mosquitos are active.
The combination of both, prophylactic and good prevention, will most likely get you a Malaria Free vacation. Some people can be extremely paranoid about Malaria to a point where they might decide not to come and vista Mozambique at all. Please remember that there is plenty of people that live in Tofo area that go on for years without getting Malaria and of course without taking prophylactic treatment. Be smart, protect yourself, and don't let the fear of Malaria spoiling your holidays.
Where is the nearest ATM?
THERE ARE NO ATMs or BANKS in TOFO. The nearest one is 4km outside Tofo on your way from/to Inhambane. If you need local currency, stop there on your way to Tofo. If you get picked up by one of our driver, please ask him to stop there and he will be very happy to help you out. Once at the guesthouse, if you need money, there is always one of us that can take you there in case you need. We can also change money for you at the bank so you don't have to go there and wait in line.
The maximum amount you can withdraw is 5000 mzn each time depending on your bank card limits.
What food options are there?
As a B&B guesthouse we only offer breakfast which is served daily on the main terrace from 6.30 am to 9.30 am and it's included in your rate. The meeting time at the diving center is usually at around 7.30 am that gives you enough time to catch a nice and relaxed breakfast and head out for a 5 min walk to your dive center.
Which diving operator do we recommend?
We've got four dive centers in Tofo. All of them are easy reachable by foot. The closest dive school to our guesthouse is Peri-Peri Divers info@peri-peridivers.com, 5 minutes walk away are Diversity Scuba info@diversityscuba.com and Liquid Adventure info@liquiddiveadventures.com
All three of them are good dive centers and we have good working relationship with all of them. Therefore it's really up to you which one you prefer.
How to get to us?
There are basically four ways, the easiest you fly with LAM (www.lam.co.mz) to Inhambane. An other option is the "Fatima bus" it leaves at 5am from the two backpackers Fatima and Base and from the guesthouse Palmeiras in Maputo. This option is definitely the cheapest (900 MZN) and this bus brings you all the way to Tofo, but it's not very comfortable as it's a local bus and you never know how long the journey will take, usually the bus arrives around 2pm here in Tofo. A more comfier way is, to take a private transfer, that will cost you around 250 USD and takes seven hours. The fourth option is to take a big comfy aircon bus, they usually leave early in the morning from Maputo and go all the way to Beira. You can catch one of those, get off in Maxixe where you take the ferry across to Inhambane.
Once in Inhambane we can either come and pick you up or you can take a taxi or a "chappa" to Tofo. CAN I DRIVE DIRECTLY FROM KRUGER TO BAIA SONAMBULA? It depends how much time you've got. It's possible to drive from Krueger all the way to Tofo – but don't underestimate the distances. It's a good 11 hour drive, so to be relaxed and to enjoy the drive, I would recommend you to break the journey into two days. There are quite some good options along the coast South of Tofo (keep in mind most might only be reacheable by 4×4) from Dunes of Dovela (about 1,5 hours before Tofo) to Naara lodge (3,5 hours), more options around Xai-Xai and Inhaca island or Maputo (7hours away). WHERE CAN WE STAY IN MAPUTO? When we have to stay overnight in Maputo or when we have friends or family coming to visit us, we always try to book at Palmeiras Guesthouse (Tel.+258 824716372 or carlos.pereira@tvcabo.co.mz). It's an excellent guesthouse that offers a great breakfast in a very nice garden. The location is also fantastic.
How reliable is LAM?
HOW RELIABLE IS LAM? Regarding your question about LAM. I'm sorry to tell you that LAM isn't the most reliable airline, delays of 1 – 2 hours aren't unusual and even cancellation do happen from time to time, sadly there are the only ones that fly into Inhambane. If you've got an international connection flight to catch in Johannesburg on your way back home, I do recommend you to either plan in a night over in Johannesburg or make sure you have at least 3,4 hours at Johannesburg Int.Airport. Keep in mind that you can also fly with south african airlines from Vilanculos to Johannesburg. You can get a taxi from Tofo to Vilanculos airport which is a 4 hours drive. If you want to avoid LAM, an other option beside flying to Vilanculos, is to fly to Maputo and get a road transfer from there to Tofo, this drive will take around 7 hours. We can help you organizing the Transfer.
How to reach Tofo from Vilanculos?
Regarding travelling from Vilanculos to Tofo, the easiest way would be to fly from Vilanculos to Inhambane with LAM (www.lam.co.mz), or you can take a private transfer to Tofo, it takes around five hours and will cost you 12'000 MZN. The cheapest option is to go by public transportation. As far as I'm informed; there is a big bus leaving Vilanculos to Maputo every morning at 4 am (please ask your accommodation in Vilanculos to confirm this option). Otherwise you can go by chappa (mini bus), make sure you've got a lot time – because taking a chappa in Mozambique is an adventure, a great way to see the country and its people but you never know when you'll arrive at your destination. Either way you get off in Maxixe and from there you catch the ferry across to Inhambane. Once in Inhambane we can either come and pick you up or you can take a taxi or a "chappa" to Tofo.
How to reach Vilanculos from Tofo?
To travel from Tofo to Vilanculos, there are basically three options. The easiest one is to fly with LAM from Inhambane to Vilanculos. The more adventurous way is to travel by public transportation. You've got to make your way to Inhambane, cross with the ferry to Maxixe and from there you're able to catch a "chappa" to Vilanculos. For this you've got to plan in a whole day as it will be a slow uncomfortable travelling with a lot of waiting. The good thing is you're going to see and feel the country and it's definitely the cheapest option. The last option is to hire a private Taxi. It usually takes around 4 to 4,5 hours drive and can cost up to 13.000 for the all car.
Do you require a VISA to visit us?
Citizens of Britain, Australia, Canada, USA and other EU countries all require a tourist visa to enter the country. Most of the people from neighbouring country do not require a visa to enter the country. Since February of 2017 the Parliament finally legalized Visa on arrivals at 18 entry points throughout the country. This makes things much easier and cheaper for people who wants to visit this beautiful country. Even though the process can feel a bit slow at times when the borders are busy, it is a blessing for everyone that we are able to get visa on arrival. The price is equal to 50$ (at end 2017) and is a Single entry visa valid for a total stay of up to 30 days.
Checkin & Checkout
Rooms or bungalows are non-smoking.

Check-in: 14h00 or later
Check-out: 10h00
Breakfast

from 06h30 to 09h30

No pets
Read our sales conditions
Cancellation Policy
All cancellations must be mentioned by email to contact@sonambulas.com.
The cancellation fees below apply:
• 59 to 1 day before arrival: 30 % of the invoice
All stay reserved and shortened or any services not consumed, due to client decision and for any reason, is not refundable.
Cancellation Policy for Stay and Long Distance Transfers:
All cancellations must be mentioned by email to contact@sonambulas.com.
The cancellation fees below apply:
• 1- 21 days before arrival: 50 % of the invoice
• on the date of service: 100 % of the invoice.
Steffen Faerber
2023-10-13
Best Place in Tofo. Beatyfull Place, Great Breakfast, very nice host and a unique diving spot. Baja Sonambula ist mehr als ein Guesthouse. Es ist ein kleines Paradies. Die Zimmer sind liebevoll im Detail, traumhafte Aussicht, wundervolles Frühstück und sehr nette Gastgeber. Die Unterkunft liegt am schönsten Strandabschnitt. Von dort sind es nur wenige Meter zu guten Restaurants oder zum Tauchcenter. Wer einmal hier getaucht ist, der kommt wieder! Lieber Gianluca: Vielen Dank!
elisabeth montresor
2023-08-22
Beitull place , beautiful room and amazing breakfast !
Linda McGivern
2023-08-04
I woke up two days ago, at home here in the United States, wishing I was in beautiful Mozambique at Baia Sonambula. It is an incredibly special guest space, on an incredibly special stretch of beach in Tofo. We stayed in July: Baia Sonambula was the perfect home-away-from-home for our daytime diving/snorkeling with all the stunning creatures in the waters off Tofo (whale sharks, humpbacks!!) and nighttime explorations of the restaurants a quick beach walk away from Baia. Breakfast each day was delicious and the attentive/relaxed staff went out of their way to accommodate our vegan/vegetarian needs. The rooms were quiet and private. The beach bustled with activity during the day but then became a peaceful oasis at night, the ocean breezes gently providing nature's best a/c. It was hard to leave Baia Sonambula and Tofo. It will be harder to stay away, even though the journey from the U. S. is long. The rewards of going are just THAT epic.
Loved our room - it was airy and light and felt so peaceful The staff were just fabulous and the service outsatnding
Mayileni B Makwakwa
2023-07-25
It's a small heaven located in a really beautiful location. I gave 4 on service because I felt cleaning could be improved.
Location stupenda, camera vista mare, dotata di tutto! Si trova sulla spiaggia, a pochi minuti da tutto. Colazione vista mare, con tante scelte disponibili, anche dal menu. Personale sorridente, gentile e sempre disponibile. Consigliatissimo!
Beautiful place with an ocean view. I wish I could go back again
This little paradise is the one to stay in Tofo. The hotel is surrounded by cleverly placed flowers and trees, the rooms are full of little touch to meet all your needs, the beach view is priceless. But their most prized features are their warm, welcoming, helpful staff from reception, to kitchen staff, to housekeeping. I wish we could have stayed there for longer. We highly recommend it, you won't be disappointed.
Adorei o lugar.
Visit Tofo in Style
We Have Vacancy!